Elopements Can Be the Answer to the Curveball the Pandemic Has Thrown Many Couples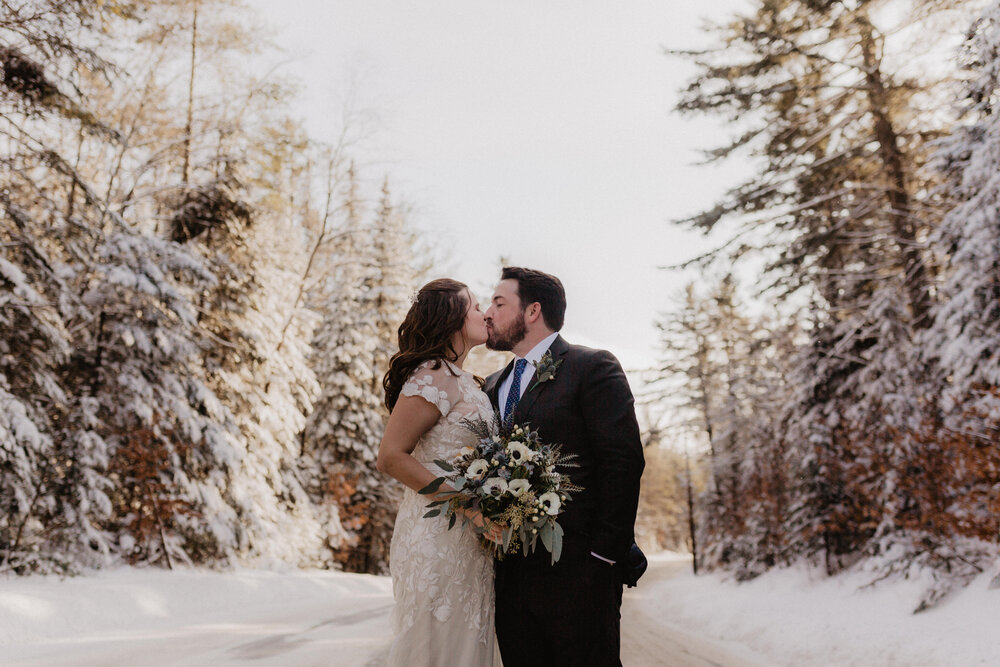 The worldwide pandemic and its resulting safety restrictions have caused virtually all 2020 weddings to be canceled or rescheduled. But, as Claudia Meyer of Upstate NY Elopements is finding, many couples are going ahead and getting married in a private or smaller ceremony because "they don't want to have to wait to say 'I do.'"
"An elopement is basically a 'small wedding' where the only escape involved is from the financial and social expectations that come with a modern, big wedding!" says Meyer. "And there's definitely no 'one-size-fits-all' when it comes to eloping."
An elopement can be just the couple in Upstate New York's Adirondack Mountains with their officiant and professional photographer (who might also serve as their witness). It can be an intimate ceremony at one of a host of romantic locations in New York's Capital Region with the couple, their dog and their two best friends by their side. An elopement can also be the couple marrying and celebrating with eight to ten of their closest family and friends, sharing a bottle of champagne and posing for professional photos against the backdrop of a 90' waterfall not too far from the state's Capital, Albany, N.Y.
"Whether eloping is a couple's first choice, or they're downsizing from an originally planned large, traditional wedding (due to pandemic restrictions), an elopement doesn't have to feel like a civil, perfunctory ceremony," says Meyer. "It can be an intimate, special and celebratory occasion."
Only choose what's meaningful to you OR The choice is yours
What can be so wonderful about an elopement is that couples can begin with a blank slate and choose only the elements important to them. A bride can wear a formal wedding dress and carry a bouquet—or not. The couple can have a full floral display and archway—or not. Guests can enjoy a slice of cake and a glass of champagne—or not.
Elopements can be intimate, special, beautiful, personal, easy to plan, flexible and celebratory. Elopements do not have to be overwhelming, reliant on long to-do lists and months of planning, exhausting or secretive.
"Elopements take an entire wedding and boil it down to the most meaningful parts, which are what the couple decides to include," says Meyer.
"The most recent couple I worked with decided the most important aspects of marrying was: just the two of them and a witness, selecting a quaint location and personalizing the ceremony by writing their own vows, and having it all captured by a photographer."
Must DOs to say I DO
Find someone to marry you
In the past, your only options were a member of the clergy, or a justice of the peace. Now, your options also include hiring a professional marriage officiant or even asking a friend or family member to marry you. Each state has its own requirements as to who can perform a marriage ceremony. And, even counties within a state can vary, as in New York State. It is best to check with the local city or town clerk's office or with a professional marriage officiant in the locality where you want to marry.
Keep in mind there is more to performing a marriage than most people understand—like important legal details. For that reason, hiring a professional wedding officiant who does this regularly is recommended.
Choose a location
Choose someplace picturesque as a backdrop for capturing memories of the day in spectacular photos, or perhaps a place that's significant to the two of you. Or, choose an Airbnb that will welcome your short ceremony in front of the fireplace. The possibilities are endless. Some of your best sources for location ideas are officiants and photographers, as they have had experiences at many locations, and generally have their favorites.
Social distancing is important and easy. This is the time of year when you can be outdoors, and that allows for more social distancing. But what if it rains? Meyer says when working with her couples, she always has a fallback plan. "If you're going to be at a park, there may be a pavilion that we could duck under," she says. "I do this homework in advance for the couples I marry, but if you are planning this yourself you need to find out things like if a pavilion would have to be rented." If you are near a building, like the state Capitol or the Park Playhouse in Albany's Washington Park, for example, it's not very hard to find an overhang or archway were the few of us can get out of the rain—and we're not trying to cram a hundred people into that space, she says. Fortunately, an elopement is short with few, if any, guests so that allows for a lot of flexibility, including the shelter of a few umbrellas!
Know the details of getting your marriage license
Just as each state and some localities vary in how they regulate who can marry a couple, marriage license requirements vary, too. Check with your professional marriage officiant or your local municipal office, generally the town or city clerk's office. In some cities, the office is called the marriage bureau. Online, you can search for how to get a marriage license in (your city, your state)?
Pay attention to the type of documentation the two of you will need to present to the city or town clerk when applying for your license, as well as any required timeframes. For example, in New York State, the couple must wait 24 hours from obtaining their license before marrying. And, the license expires if the couple does not marry within 60 days of obtaining it. There are exceptions to this, such as for active military. Being properly informed about marriage laws in the area where you plan to tie the knot can make the difference between being legally married or not!
Preserve the Day
Regardless of the size of the wedding, most couples want images of those special moments taken by a professional photographer. Whether there are two or 200 guests, professional photos capture the two of you making your lifetime commitments and promises to one another, exchanging rings and sharing your first kiss. "In fact, wedding photos are such a priority for many eloping couples," says Meyer, "it's not uncommon for them to hire their photographer first before making the rest of their plans."
Zoom or FaceTime in special guests
Having special family or friends far away is one reason some couples choose elopement, but that does not mean their loved ones cannot be involved. "At a recent backyard elopement, the groom's parents and sister couldn't travel from Australia because of the pandemic, so one of the guests 'brought' the distant family members to the ceremony on her phone. They saw the ceremony in real time and were able to congratulate their son and new daughter-in-law immediately, making them feel like a part of this special day from half-way across the world."
The bottom line
There are couples who wonder if it's worth investing in special elements if they are "only" eloping. "I tell my couples 'Don't cheat yourself out of the chance to really celebrate your wedding day, whether it be a special dress, flowers, professional photos to include in wedding announcements and albums or something else that's meaningful to both of you'," says Meyer. Elopements are a wonderful opportunity to start with a blank slate, choosing only the elements important to the couple and escaping from the many that may not be.